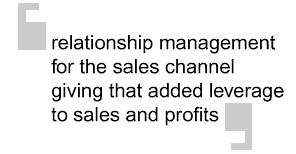 Leading edge
channel control
Profile outlets and analysis outlet and salesperson performance.

Use mapping to plan territories by postcode and plot potential markets.

Communicate with the right people to motivate your sales channel and get the results.

Enterprise
Relationship Model
High data availability using
replicated data.

Co-ordinate strategic and tactical
data at all levels.

Local or remote users have the full picture and management has total control.